---
White Heather Florists
Plunkett St, Killarney, Co. Kerry, Ireland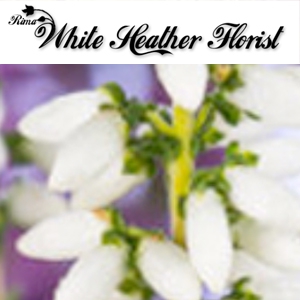 Address:
Plunkett St,
Killarney ,
Co. Kerry
About White Heather Florists:
At White Heather Florist, we create bespoke displays to suit your every need. From Corporate displays for hotels & restaurants, to Birthday flowers, Engagement & Wedding flowers, or just to simply say Thank You, Rima does it all!
Opening Times:
Mon

9am - 5pm

Tue

9am - 5pm

Wed

9am - 5pm

Thu

9am - 5pm

Fri

9am - 5pm

Sat

9am - 2pm

Sun

Closed
We deliver flowers to:
Aghacurreen
Aghnanus Bridge
An Fearann Fuar
Anablaha
Annagh
Ardywanig
Ballahantouragh
Ballybane
Ballygamboore Upper
Ballyhar
Ballymalis Bridge
Ballynahallia
Ballyvirrane
Banard
Barraduff
Barry's Glyn
Baunclune
Beaufort
Beaufort Bridge
Beaufort House
Beheenagh
Boolacullane
Brackhill
Caisleán na Mainge
Canguillia
Canrour
Carhoomeengar
Carker
Carrig East
Castlemaine
Cill Airne
Cill Garbháin
Cleady
Cliddaun
Cloghereen
Clydagh Bridge
Cockow
Coolcorcoran Bridge
Coollick
Coolnageragh
Coolvard Bridge
Coom
Crossderry
Crossmount
Curracitty
Curranes
Currans
Danesfort
Derrylea
Faha
Farranfore
Fieries
Fieries Cross Roads
Flesk Bridge
Fustane Lower
Gaddagh Bridge
Garraun
Gearhasallagh
Glangristeen
Glen Ellen
Glenfleak
Gneeveguilla
Gneevgullia
Gortacareen
Gortglass
Gortnagane
Gortnaprocess
Gortnaskarry Bridge
Gortormerillagh
Gowlane
Gullaun
Gweestin Bridge
Haremount
Hillville
Inchicorrigane
Keelties
Kibranagh
Kilclogherane
Kilcoolaght
Kilcow
Kilcummin Farmhill
Kilderry
Kilgarvan
Kilgobnet
Kilnanare
Kilnarovanagh
Kilquane
Kilsarkan
Knockacappul
Knockane
Knockanimrish
Knockeennahone
Knockeens
Knockmanagh
Knocknafreaghaun
Knocknaharan
Knocknaman
Knockrower East
Lakeview
Laune Bridge
Leaha Bridge
Leamnaguila
Leanevglissane
Letter
Lisbabe
Lissataggle
Listry
Listry Bridge
Maine Bridge
Mangerton
Maulykeavane
Mill Bridge
Molahiffe
Morley's Bridge
Mount Rivers
O'Connell Bridge
Owgarrif Bridge
Ownagarry Bridge
Poulgorm Bridge
Rice Bridge
Rockfield Bridge
Rossanean
Roverville Cross Roads
Rusheen
Scartaglen
Scartaglin
Scrahanaveal
Scrahanfadda
Seartaglin
Shannera Lower
Slaheny Bridge
Teernaboul
Tullaha
Twiss Bridge
Where to find us:
More About White Heather Florists & History
A White Heather
The Well established little unique flower shop in the heart of Killarney.
We are trusted to create celebrations and tribute arrangements for our clients across the county.
Most importantly, we have created hundreds of unique, personal weddings, birthday celebrations, anniversary parties, funerals and all occasions, as well as hand tied bouquets. Using only the freshest quality flowers.
we care deeply about our customers and our community – we focus on customer service.
We are hear to listen and to work with you and to make your vision become reality.
Overview for White Heather Florists
All reviews for White Heather Florists