---
Floral Creations and Garden Centre
Main Street, Dunmanway, Co Cork, Ireland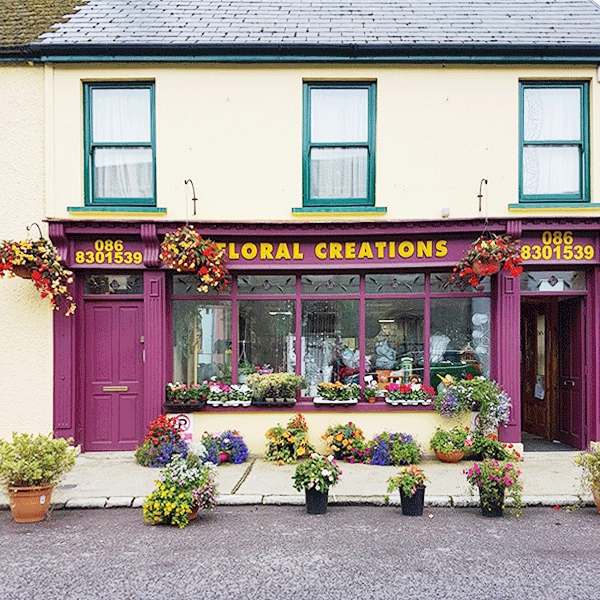 Address:
Main Street,
Dunmanway ,
Co Cork
About Floral Creations and Garden Centre:
Floral Creations established in 1995 offer same day flower delivery throughout Dunmanway, Clonakilty, Bandon, Bantree, Drimoleague,drinagh inchageela johnstown Gouganne Barra, West Cork and Macroom. We specialise in weddings traditional /modern from very choice to low key budget weddings inc.baloons topairys candleabras and flowers for church and civil cermonies inc bridal work we work to suit
Opening Times:
Mon

9:30am - 6pm

Tue

9:30am - 6pm

Wed

9am - 6pm

Thu

9:30am - 6pm

Fri

9am - 6pm

Sat

9:30am - 6pm

Sun

Closed
We deliver flowers to:
Abbey Mount
Abbeymahon
Aghabulloge
Aghabullogue
Aghacunna
Aghaville
Aghaville Cross Roads
Aghavrin Cross Roads
Aghnamarroge Cross Roads
Aghnanus Bridge
Ahaunduff Cross Roads
Aherla
An Gleann Garbh
An Léim
An Sciobairin
Annahatn
Ardcahan Bridge
Ardeen
Ardfield
Ardgehane
Ardnacrushy
Ardrah
Argideen Bridge
Aughaville
Baile an Chaisleáin
Baile Bhuirne
Baile Mhic Íre
Ballagheloghane Cross Roads
Ballaghhammer Bridge
Ballinascarthy
Ballinascarty
Ballineen
Ballingeary
Ballingurteen
Ballinoroher
Ballinvronig
Ballydehob
Ballyduvane
Ballyfinnane Bridge
Ballylangley
Ballylinchy
Ballymacredmond
Ballymacrown
Ballymacwilliam
Ballymakeera
Ballymakeery
Ballynacarriga
Ballynagree
Ballyneen
Ballyoughiera
Ballyvireen Bridge
Ballyvourney
Baltimore
Banane Bridge
Bantry
Bard Inch
Barloge
Barnagowlane
Barony Bridge
Barryareigh Cross Roads
Bauravilla
Bawnmore
Bay View
Béal an dá Chab
Béal Átha Fhínín
Bealad Cross Roads
Bealnabla
Bealnablath
Bealock
Beanntraí
Bedlnamorive
Black Cross Roads
Blairs Cove
Bohane's Cross Roads
Boylegrove
Bréantrá
Bredagh Cross Roads
Brinny
Butlerstown
Cahermoanteen Bridge
Cahernaeaha
Cammeenavrick
Canrour
Cappaboy Beg
Cappaghglass
Cappanoloha
Cappeen
Carrahaly
Carrigaclodig Cross Roads
Carrigadrohid
Carriganimmy
Carrigaphooea Bridge
Carrigillihy
Carrigthomas
Castlenalact
Castletownsend
Castletownshend
Church Cross
Cill Briotáin
Cill Garbháin
Clashflugh Cross Roads
Classas
Cliffort
Cloghboola Bridge
Cloghburn
Cloghdonnell
Cloich na Coillte
Clonebud
Cloonderreen
Cloonkirgeen
Clubhouse Cross Roads
Coachford
Colthurst Bridge
Connonagh
Coolavokig
Coolcoulagata
Coolea
Cooleenagow Cross Roads
Coolnagoppoge
Coolvard Bridge
Coomhola Bridge
Coomleagh
Coosane
Courtmacsherry
Cousane
Creagh
Cromwella Bridge
Crooked Bridge
Crookstown
Croppys Cross Roads
Cross Mahon
Cross Sheelavarra
Crossterry Bridge
Crushnalanmy Cross Roads
Cúan Dor
Cúirt Mhic Shéafraidh
Cullenagh Bridge
Cullomane Cross Roads
Cummeen
Currabeha Cross Roads
Currahy Bridge
Curranvellikeen Cross Roads
Derrineanig
Derryclogh
Derryfineen
Derrynacaheragh
Deshure
Donoure
Dooneen
Downdaniel
Drehideighteragh Bridge
Driminidy
Drimoleague
Drishane
Drishanebeg
Drohidaspaunig Bridge
Droichead na Bandon
Drom dhá Liag
Dromanassig Bridge
Dromcarra Bridge
Dromdrasdil
Dromleigh
Dromore
Dún Mánmhaí
Dún na Séad
Duneen
Dunmanway
Dunowen
Dúras
Durrus
Enniskean
Enniskeen
Farnanes
Farnanes Cross Roads
Farranavarra
Fergus
Floraville
Foherlagh
Fort Prospect
Fourcuil
Fuhiry
Furkeal Bridge
Gallatrim
Garrane
Garranelahan Cross Roads
Garteen Cross Roads
Gearagh
Glan Cross Roads
Glanaphuca Bridge
Glanbannoo Upper
Glandore
Glandore Bridge
Glanlough
Glengariff
Glengarriff
Gortafludig
Gortloughra Bridge
Gortnaloughra
Gortroe Cross Roads
Gurteenulla
Hayes Bridge
Hayes Cross Roads
Inchec Bridge
Inchigeelagh
Inchinossig Bridge
Inchisine
Inis Eonáin
Inishannon
Innishannon
Inse Geimhleach
Kealkill
Kilbrittain
Kilbrona Cross Roads
Kilcrea
Kilgarvan
Killeenleagh
Killinardresh
Killinardrish
Kilmeen Cross Roads
Kilmichael
Kilpatrick
Kinneigh
Knocknahilan
Knoppoge Bridge
Lackabaun
Lacknahaghny
Lady's Odell
Larehill Cross Roads
Leap
Leary's Cross Roads
Lehenagh
Letter
Letterlicky Bridge
Lickowen
Linnamilla Bridge
Lisbealad
Lisbealadea
Liscarrigane
Lislevane
Lissacresig
Lissacroneen Cross Roads
Lissaphooca
Lissaphooca Cross Roads
Lissardagh
Lisselan
Lomanagh
Lyrenageeha
Macroom
Maigh Chromtha
Manch Bridge
Massytown
Maugha
Maulanimirish
Maulmane Bridge
Maunvough
Meen Bridge
Milleeny
Milmorane
Minanes
Moanflugh
Moneynacroha Cross Roads
Morley's Bridge
Moskeagh Cross Roads
Mossgrove Cross Roads
Mount Massy
Moyny Bridge
Muccurragh
Murnaghbeg
Murragh
Mutton Bridge
Myross
Na Fearnáin
Nedinagh
New Bridge
Newcestown
North Ring
Old Chapel Cross Roads
Old Port House
Oldchapel
Parkbane
Pedlars Cross Roads
Piersons Bridge
Pike Cross Roads
Poulanargid
Poulgorm Bridge
Quarry Cross Roads
Rassmore
Rathrnane Bridge
Rathruane
Reananerree
Reanascreena
Reavouler Bridge
Red Cross Roads
Releagh
Rooves Beg
Ros Ó gCairbre
Rosscarbery
Roury Bridge
Runalunn
Sam's Cross Roads
Scrahane Cross Roads
Scronagare
Sealaclare Bridge
Shanacrane
Shanadungan Cross Roads
Shanagh
Shanlaragh
Shronacarton Cross Roads
Shunagh
Skahanagh
Skeagh
Skibbereen
Slaheny
Slaheny Bridge
Sleveen
Smithville
South Ring
Spital Bridge
Spread's Cross Roads
Strawhall Cross Roads
Sullane Bridge
Tanyara Bridge
Teerelton
Temple Bridge
Templemartin
The Counsellors Cross Roads
Tigh Molaige
Timoleague
Tinker's Cross Roads
Toames
Togher Bridge
Toom
Toon Bridge
Tracarta
Tuough Bridge
Turnaspidary
Unionhall
Upton
Woodfield
Overview for Floral Creations and Garden Centre
All reviews for Floral Creations and Garden Centre
Delighted with beautiful flowers and service.

My Mum was delighted with her flowers. Thank you for such a beautiful surprise for her birthday.

Customer awarded 5 stars.

I think I have already done this so do not make me go off your efficient service by pestering with this type of e mail. I enjoy giving my reviews but not repetitively for the same delivery

Very professional very helpful

The florist contacted me to let me know that they couldn't deliver on the Monday because I was asking for them to deliver to a business address which closes on Mondays. I have just spoken to the recipient of the flowers who tells me they are beautiful. thank you

Thank you. It was a pleasure doing business with you. pleasure doing business

It is a wonderful service for those of us overseas who want to send someone special at home a floral gift.

Customer awarded 5 stars.

Ordered from Australia, delivered nearly straight away.. Flowers were great!! Will be using this service again!!!

As i live in Sth east Asia I was delighted to find a good service within west Cork-made celebrating with loved ones special

Living in London i wanted my cousin in Ballineen to have a special 50th thanks to you she got that many thanks!

Customer awarded 5 stars.

Customer awarded 5 stars.

Customer awarded 5 stars.

Customer awarded 5 stars.