---
Cashel Flowers
4 Ladyswell Street, Cashel, Co. Tipperary, Ireland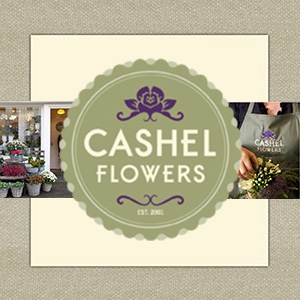 Address:
4 Ladyswell Street,
Cashel ,
Co. Tipperary
About Cashel Flowers:
Cashel Flowers is centrally located in Cashel of the Kings, Co. Tipperary. Over the last 13 years Michelle Kenneally has built an unparalleled local reputation for attentive personal service, mixed with original and creative design. She brings a fresh & innovative approach to flowers for your occasion and is passionate about all of her creations, from individual bouquets to corporate functions, private clients & her many happy brides.
Opening Times:
Mon

9am - 5pm

Tue

9am - 5pm

Wed

9am - 5pm

Thu

9am - 5pm

Fri

9am - 5pm

Sat

9am - 2pm

Sun

Closed
We deliver flowers to:
An Bháinseach
Án Chathair
An Gabhailín
Annacarty
Ara Bridge
Ashhill
Aughnagawer Cross Roads
Ballinure
Ballyclerahan
Ballyfowloo
Ballygriffen
Ballygriffin
Ballyoughter Bridge
Ballytarsna
Bansha
Barrettstown
Beakstown
Cahir
Caiseal
Camus Bridge
Cappanarragh
Carrow
Cill Náile
Clone Bridge
Clonoulty
Cloonyross Cross Roads
Coolbaun Cross Roads
Derrymore Bridge
Donaskeagh
Faheen Cross Roads
Fethard
Fiodh Ard
Galbertstown
Garranmore
Golden
Goolds Cross
Gortnagowth
Graystown
Hawarden Bridge
Helen Park
Holycross
Horse and Jockey
Hyinenstown
Kilbragh
Kilbreedy
Killeenasteerna
Killenaule
Kilmoyler Cross Roads
Kilsallagh
Knockacolla
Knockgaffon
Laffansbridge
Lagganstown
Loch Ceann
Maudemount Cross Roads
Mocklershill
Mogh
Moglass
Morpeth Bridge
Mortlestown
Mount William
Newinn
Poulnamucky
Racecourse Cross
Rathclogh
Rathkennan Bridge
Rossmore Bridge
Saucestown Bridge
Scarrough Bridge
Thomastown Castle
Twoford Bridges
Victoria Bridge
Whiteland Cross Roads
Overview for Cashel Flowers
All reviews for Cashel Flowers
So difficult sending flowers abroad. No Sunday deliver and, my luck, Monday was a bank holiday. The flowers arrived on Tuesday and my friend was delighted. She???s sending me photos which I???m sure will be lovely.