---
All Seasons Florists
Barrack St, Ballaghaderreen, Co. Roscommon, Ireland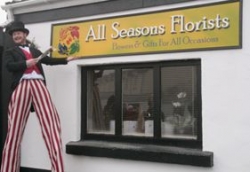 Address:
Barrack St,
Ballaghaderreen ,
Co. Roscommon
About All Seasons Florists:
Members of Direct2Florist since 2012. All Seasons Florists provide a full service flower shop and flower arrangement service. We offer same day delivery to Ballaghaderreen, Fernchpark, Boyle and surrounding areas - order online for prompt fresh flower deliveries!
Opening Times:
Mon

9am - 5pm

Tue

9am - 5pm

Wed

9am - 5pm

Thu

9am - 5pm

Fri

9am - 5pm

Sat

9am - 2pm

Sun

Closed
We deliver flowers to:
Abbeyville
Achonry
An Caisleán Riabhach
Ardkeeran
Ardlona
Ardloy
Baile an Locha
Baile an Mhóta
Baile Chathail
Baile idir dhá Abhainn
Ballaghaderreen
Ballaghboy
Ballinafad
Ballinameen
Ballinlough
Ballinphull
Ballydooley
Ballyfahy
Ballyhaunis
Ballymoe
Ballymote
Ballynacarrow
Ballynaglogh
Ballytrasna
Banada
Barnacahoge
Barratogher
Barroe
Béal an Átha Fada
Béal Átha hAmhnais
Béal Átha Mó
Béal Átha na gCarr
Bealach an Doirín
Bekan
Bellahy
Bellanagare
Bellanograugh Bridge
Bellarush Bridge
Belra
Botinny
Boyle
Bracklagh
Brackloonagh North
Brackloonagh South
Branchfield
Breandrum
Breedoge
Brickeens
Broher
Bunnanaddan
Cappagh
Carracastle
Carrowcrory
Carrowilkin
Carrownacarrick
Carrownacreevy
Carrowneden
Carrowntawy
Carrowreilly
Carrowwilkin
Castlebaldwin
Castleplunket
Castlerea
Castlereagh
Charlestown
Cill Cheallaigh
Claragh Scotch
Cloonacool
Cloonahinshin
Clooncan
Cloondergan
Clooneagh
Cloonfad
Cloonfinish
Cloonfower
Cloongoonagh
Cloonkeevy
Cloonlaheen
Cloonlarhan
Cloonlaughil
Cloonloogh
Cloonlumny
Cloonmeen West
Cloonmore Cross Roads
Cloontia
Cluid
Clydagh
Coola
Coola Cross Roads
Cooleen
Cornaglia
Cornaleck
Corray
Corrigeenroe
Corsallagh
Cuilmore
Culfadda
Cully Cross Roads
Cuppanagh
Cuppanagh Bridge
Curragh West
Curraghbonaun
Curry
Doocastle
Doomore
Drimina
Drumcormick
Drumdoney
Drumfin
Drumraine
Dún Gar
Eskragh
Falleens
Falnasoogaun
Farranduff
Fauleens
Flughany
Frenchpark
Fule
Garranlahan
Glenmullynaha
Glenmullynaha Cross Roads
Glentavraun
Gorteen
Gortermone
Grange Beg
Graniamore
Granny
Greyfield
Highwood
Kesh
Kilgarriff
Kilkelly
Killavil
Killoran
Kilmorgan
Kilmovee
Kilnalag
Kilnalog
Kilshalvy
Kilvine
Kingsland
Knockadalteen
Knocknacross
Lahordan
Lavagh
Leyny
Lisacul
Liskeagh
Lislaughna
Lissaneeny
Loch Glinne
Loughglinn
Mahanagh
Mainistir na Búille
Masshill
Metal Bridge
Moor
Moytirra
Mullaghanarry
Mullaghroe
Mullany's Cross
Newtown-Dillon
Oran
Pollremon
Portinch
Powellsborough
Powellsborough Cross Roads
Rathdoony More
Redhill
Rinn a Rodáin
Riverstown
Roadstown
Roosky
Ropefield
Rue Cross Roads
Sandyhill
Sessuecommon
Sonnagh
Srah Lower
Srah Upper
Srananagh
Sroove
Tawnaghbeg
Tawnavoultry
Tawnyinah
Tinacarra
Tinny Park
Tobar an Choire
Tobercurry
Toberscanavan
Toberscardan
Tomboholla
Toorlestraun
Tubbercurry
Tullanaglug
Tunnagh
Ummeryroe
Williamstown
Zion Hill
Overview for All Seasons Florists
All reviews for All Seasons Florists
Recipient loved flowers i ordered for her. Delivered on time. Sent me photo. Beautiful arrangement.