---
All Seasons Florist
Unit 5 North Circular Road, Tralee, County Kerry, Ireland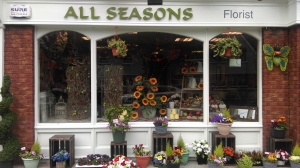 Address:
Unit 5 North Circular Road,
Tralee ,
County Kerry
About All Seasons Florist:
All Seasons Florist has been supplying top quality fresh flowers since 2007. Located right in the heart of Tralee on north circular road (premises formally Flowers by Ann) we pride ourselves in providing a professional floristry service with a prompt delivery service in Tralee and surrounding areas. We provide flowers for birthdays, anniversaries, new baby, romance, get well, sympathy and wedding
Opening Times:
Mon

9am - 5pm

Tue

9am - 5pm

Wed

9am - 5pm

Thu

9am - 5pm

Fri

9am - 5pm

Sat

9am - 2pm

Sun

Closed
We deliver flowers to:
Abbeydorney
Aghacurreen
An Baile Dubh
An Cromán
An Fearann Fuar
An Fhianait
Ard Fhearta
Ardcanaght
Ardfert
Ardrahan
Ardywanig
Aughill
Aughils
Baile Uí Thaidhg
Ballin Prior
Ballincloher
Ballincloher Cross Roads
Ballincrossig Cross Roads
Ballinorig
Bally M'Elligott
Ballybane
Ballyduff
Ballyenaghey
Ballygamboore Upper
Ballyhar
Ballyheige
Ballyheigue
Ballyhorgan East
Ballymacelligott
Ballymacprior
Ballymacquin
Ballymacquin Upper
Ballymalis Bridge
Ballynahallia
Ballynaskreena
Ballyrechan Bridge
Ballysheen
Ballyvirrane
Baltovin
Banna
Barrow
Barry's Glyn
Baunclune
Blennerville
Boolacullane
Boolteens
Brackhill
Broughane Cross Roads
Caheracruttera
Caisleán Ghriaire
Caisleán na Mainge
Camp
Carrigcannon
Castlegregory
Castleisland
Castlemaine
Castleshannon
Causeway
Chapeltown
Cill Orglan
Clashlehane Bridge
Cliddaun
Cloonagh Bridge
Commons West
Coolnageragh
Coolnaleen Cross Roads
Cordal
Cromane
Crompaun Bridge
Curracitty
Curranes
Currans
Deelis
Dirtane
Doonimlaghbeg
Dreenagh
Drehidaclare Bridge
Drehidasillagh
Dromcunnig
Dromkeen Bridge
Drommartin
Faha
Fahaduff
Fairfield Bridge
Farmer's Bridge
Farranfore
Fenit
Fieries
Fieries Cross Roads
Finuge
Fionnúig
Flemby
Fybagh
Garraun
Garryhagore
Glanballima
Glanlarehan
Glanoe
Glen Ellen
Glenderry
Glendiff
Gortbrack
Gortglass
Gortnaleaha
Gortnaskarry Bridge
Gortormerillagh
Gweestin Bridge
Heirhill
Hillville
Keelties
Kibranagh
Kilbinane Hill
Kilclogherane
Kilcoolaght
Kilcooly
Kilcow
Kilcusnaun
Kilderry
Kilflyn
Kilflynn
Killelton
Killorglin
Kilmoyly South
Kilnanare
Kilnarovanagh
Kilshannig
Kilteean
Kilteen
Knockaunbrack
Knockaunnaglashy
Knockburrane Cross Roads
Knockeen Cross Roads
Knocknagashel
Knocknaman
Lackamore
Leamnaguila
Leic Snámha
Lerrig
Lissataggle
Listry
Listry Bridge
Lixnaw
Lohercannan
Lyracrumpane
Maghanknockane
Maine Bridge
Maingailaunlush
Mainistir Ó d'Torna
Molahiffe
Montnagee
Mount Rivers
Mountcoal
Muing
Muinganear
Muingwee
Mweennalaa
O'Connell Bridge
Oaghley
Oileán Ciarraí
Ownagarry Bridge
Paddock
Rathanny
Rathea
Rathscannel
Reanagowan Cross Roads
Rossanean
Roverville Cross Roads
Rusheen
Six Crosses
Spa
Talbot's Bridge
Tawlaght
Tiduff
Tiershanaghan
Tinnabally Cross Roads
Trá Lí
Trench Bridge
White Gate Cross Roads
Overview for All Seasons Florist
All reviews for All Seasons Florist
Customer awarded 5 stars.

Customer awarded 5 stars.

She absolutely loved the flowers! They were so fresh and beautiful! Definitely would recommend and would use your florist again! Thank you.

I had a picture sent of the flowers and they were beautiful, delivery guy was amazing , Thank you so much will definitely use you again

Was very pleasantly surprised how quick my order was delivered I left the order until the day I needed it and it arrived on the same day very happy

beautiful flowers delivered on time!

Customer awarded 5 stars.

Beautiful flower from Flowers By Ann (Tralee)

Flowers are lovely thanks, processing was easy. However I gave very clear instruction to leave flowers on door step in the event that there is no answer. This was ignored and instead the delivery guy called to ask for instructions thus spoiling the surprise. not the end of the world but worth a comment.

Excellent quick service!????

Customer awarded 5 stars.

A super service, reliable and true to their word. I've used this service to ship flowers to Ireland, US and India. Success each time..

Fast delivery and a great range to choose from

Customer awarded 5 stars.

I have not seen the flowers but received a phone call from the recipient to say the bouquet were stunning and so perfect. The family said the beautiful flowers started a lovely weekend of celebrating a Golden Wedding. I was delighted I trusted using the Florist choice option to receive the great result . Thank you so much for great service and product.