---
Ailins Flowers
, Edenvella, Co. Leitrim, Ireland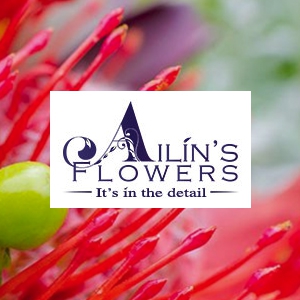 Address:
,
Edenvella ,
Co. Leitrim
About Ailins Flowers:
Our commitment is to provide both a professional and personal service you can trust. Our arrangements are designed to reflect your choice and style.
Opening Times:
Mon

9am - 6pm

Tue

9am - 6pm

Wed

9am - 6pm

Thu

9am - 6pm

Fri

9am - 6pm

Sat

9am - 6pm

Sun

Closed
We deliver flowers to:
Agharroo
Aghnahaha
An Ghráinseach
Ardnaglass Upper
Ashbrook
Askill
Baile an tSratha
Balinlig
Ballaghnatrillick
Ballaghnatrillick Bridge
Ballintra
Balloghure
Ballure
Ballyshannon
Ballysuggart
Béal Átha Seanaidh
Buckode
Bun Dobhráin
Bundoran
Bunduff Bridge
Carrownamaddoo
Cartronplank
Cashellackan
Cavangarden
Cionn Locha
Cliafuine
Cliffony
Cloghope
Cloghore
Cloontyprughlish
Connor Bridge
Coolmore
Creevykeel Cross Roads
Derrylehan
Drumfad
Drumoake Bridge
Dunmuckrum
Durnesh
Faughary
Glenade
Gortinar
Grange
Grogagh
Gubacreeny
Gurteen
Keeloges
Kildoney
Kinlough
Laheen
Laputa
Largydonnell
Leckanarainey
Liscally
Lisnabrack
Lissiniska
Loputo
Lugnagall
Lurganboy
Manorhamilton
Milk Haven
Moneygold
Moneylahan
Mullaghmore
Mullanacross
Mullanyduffy
Park
Raneely
Rathglass
Redbrae
Roshin
Rossinver
Rossnowlagh
Rossnowlagh Lower
Rossnowlagh Upper
Shanvaus
Single Street
Tullaghan
Tullyderrin
Tullymore
Unshinagh
Wardtown
Where to find us:
More About Ailins Flowers & History
The meaning behind "Ailín" is to "exude constant happiness"
and working with flowers is my way of trying to bring a little more happiness. As a fully qualified florist, originally from Donegal, I now have my own floral boutique based in Kinlough, Co. Leitrim. Over the years we've grown both in strength and reputation since our launch in 2010 with a purpose built workshop and consultation suite. We have countless testimonials from many happy clients.
Specialties
We specialise in wedding flowers and also have 'decor-for-hire' options. We cater for all special occasions, from birth to death, commemorating all the celebrations in between. Our creations range from classical and elegant, edgy & contemporary or sometimes simply fun and slightly whimsical.
Location & Delivery
Serving Donegal, Leitrim, Sligo and Fermanagh and facilitating many other wedding locations. We also offer heirloom bouquets, which are perfect for destination weddings.
Overview for Ailins Flowers