---
Sunflowers
Thurles Shopping Centre, Thurles, Co. Tipperary,, Ireland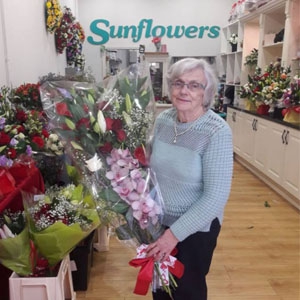 Address:
Thurles Shopping Centre,
Thurles ,
Co. Tipperary,
About Sunflowers:
Sunflowers, your local Thurles florist for quality and service. We deliver flowers same day throughout Thurles, Co. Tipperary, area and all our deliveries are made by hand. Buy flowers online for same day delivery by your local florist.
Opening Times:
Mon

9am - 5pm

Tue

9am - 5pm

Wed

9am - 5pm

Thu

9am - 5pm

Fri

9am - 5pm

Sat

9am - 2pm

Sun

Closed
We deliver flowers to:
Ahgmore Bridge
An Baile Beag
An Gabhailín
An Teampall Mór
Anglesey Road
Ashhill
Áth na nUrlainn
Athnid
Baile an Gharraí
Baile Sheáin
Balief Cross Roads
Ballincurry
Ballingarry
Ballingarry Bridge
Ballinunty
Ballinure
Ballycahall
Ballycahill
Ballyfowloo
Ballygriffen
Ballygriffin
Ballylaine Cross Roads
Ballynonty
Ballyoughter Bridge
Ballysheeda
Ballysloe
Ballytarsna
Barna Cross
Barnalisheen
Barraden
Baunballinlough
Beakstown
Boolabeha Bridge
Borrisoleigh
Bouladuff
Brownstown Cross Roads
Bruckana
Bullylusky Cross Roads
Caiseal
Camus Bridge
Cappanarragh
Carrickloughmore Cross Roads
Carrow
Cill Náile
Clomantagh
Clon
Clonakenny
Cloncannon
Clone Bridge
Clonoulty
Cloonyross Cross Roads
Coalbrook
Commons
Coolbaun Cross Roads
Cooleenduff Bridge
Cooleeny
Coolkill
Cross of Beggar
Crosspatrick
Cullahill
Currabaha Cross
Curreeny
Curreeny Cross
Derrymore Bridge
Dovea
Drangan
Drish Bridge
Drom
Drongán
Drumbane
Drumminnagleagh Bridge
Durlas
Errill
Faheen Cross Roads
Finnahy
Four Cross Roads
Four Roads, The
Galbertstown
Galmoy
Garranmore
Glasha Cross Roads
Glenbreedy
Glenough Lower
Glenough Upper
Golden
Goldings Cross
Goolds Cross
Gortalough
Gortnagan Cross Roads
Gortnagowna
Gortnagowth
Gortnahoo
Graffin
Graiguepadeen
Granavone
Graystown
Harristown
Harristown Cross Roads
Helen Park
Hollyford
Holycross
Horse and Jockey
Hunts Grove
Islands
Johnstown
Kilbragh
Kilbreedy
Kilcommon
Kildrinagh Cross Roads
Kilfithmone Cross Roads
Killahy Cross Roads
Killanigan
Killenaule
Killenoher
Killough
Kilsallagh
Knocknageragh Bridge
Knocknamuck
Laffansbridge
Lahagh
Lisduff Bridge
Lisheen Cross Roads
Littleton
Loghinny
Longfordpass Bridge
Longfordpass North
Losset
Loughmoe
Lughinny
Manseltown
Mardyke
Maudemount Cross Roads
Milestone
Mocklershill
Mogh
Moglass
Monroe Bridge
Mount Pleasant
Mulgrave Bridge
New Birmingham
Orkneys Cross Roads
Penane Bridge
Poulakerry
Quinlisk's Cross
Racecourse Cross
Rathbeg Bridge
Rathclogh
Rathkennan Bridge
Renaghmore
Rosmult
Rossestown
Rossestown Bridge
Rossmore Bridge
Saucestown Bridge
Scarrough Bridge
Sevensisters
Sheskin
Srahbaun
Strogue Cross
Teampall Tuaithe
Templederry
Templemore
Templetouhy
Templetuohy
The Fourteen Roads
The Rag
Tincashel Cross Roads
Tranagh
Tullowmacjames
Turnpike
Twoford Bridges
Twomileborris
Upperchurch
Urlingford
Victoria Bridge
All reviews for Sunflowers
My friend put a photo of flowers on fb and they were lovely. She was over the moon with them so thank you so much.

Flowers received by mam and she was happy with them thank you

Flowers arrived and presented beautifully, recipients more than pleased

I have used this florist a few times now and the flowers are always beautiful and always delivers a great service.

We ordered a Christmas arrangement with red flowers and it looked nothing like the picture. It was all pink flowers. I understand having to substitute some types of flowers if they are not available, but if we order a Christmas arrangement, it should still look like Christmas flowers- not all pink. By the time they were delivered, the arrangement was falling apart and the recipient had to disassemble it and put it into her own vases. The flowers were fresh and delivered on time, but everything else was disappointing.

Agent contacted me very soon to advise that florist I chose could not deliver but another florist had accepted the order & delivery was arranged. Excellent service & re& the receipent was delighted with bouquet she received.