Springtime Flower Delivery in Ireland & UK from a local florist
There's arguably no better time to send flowers than at springtime – both thanks to the wide choice of available flowers and the great scent that comes with them. Bulb flowers such as Narcissus hybrids, daffodils, tulips, hyacinth and Muscari (grape hyacinth) are in season – many of these have a delightful scent. Indeed, a large number of spring-flowering plants are scented, including Chamaelaucium (wax flower), lily of the valley (Convallaria), Genista (florists' broom), and lilac.

This is also the season for blossom – cherry blossom (Prunus) and Viburnum opulus (snowball tree) being two of the prettiest.A spring in our stepSpring is the season of the year florists really look forward to. As the nights draw out, temperatures rise and bright and colourful spring flowers become available, the winter blues are long-banished. Sending flowers to Ireland or the UK – is therefore a great gift idea for birthdays, anniversaries or to say congratulations.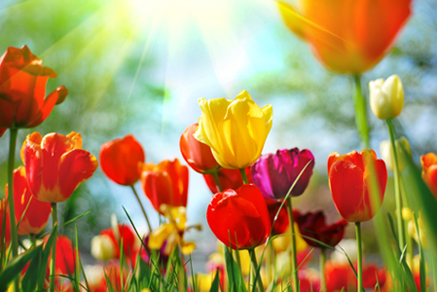 From a compact posy to a huge bouquet, Direct2florist's network of professional and highly skilled florists are there to help.Spring colour choicesIf you're looking to send spring flowers from Ireland to the UK, or within Ireland, there's loads of choice. So what colour schemes are the most popular?Subtle peach, cream and light pink shades are very popular at this time of the year – especially when it comes to spring wedding flowers.

Yellow is another natural choice of colour for spring and, when partnered with bright greens and bright white it creates a fresh look perfect for the season. Finally, for a youthful and fun option you could opt for a mix of bright springtime shades.

Think bright yellows, greens and pinks and you'll be onto a winner.Plants too!A springtime flower delivery in the UK or Ireland doesn't have to be about cut flowers either. Indoor flowering plants make a pretty focal point and, just as with spring flowers, they are bursting into life right now. A beautifully packaged and presented plant makes for a superb gift too.

Did you know?

Back in the seventeenth century, tulips, the third bestselling spring flower today, sold for ten times the annual income of a skilled craftsman in Europe. The demand for the flower was so strong that many Europeans sold their fortunes for the bulbs. This historical event is known as Tulipomania.