---
Buds and Blooms
Deelis , Cahersiveen, County Kerry, Ireland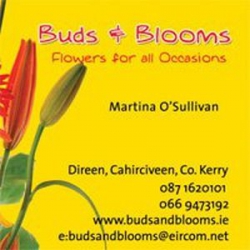 Address:
Deelis ,
Cahersiveen ,
County Kerry
About Buds and Blooms:
Stunning flowers are brought to you by Buds and Blooms. Same day flowers deliveries are available today if ordered before 2PM uk time.
Opening Times:
Mon

9am - 5pm

Tue

9am - 5pm

Wed

9am - 5pm

Thu

9am - 5pm

Fri

9am - 5pm

Sat

9am - 2pm

Sun

Closed
We deliver flowers to:
Aghatubrid
Aghatubrid Bridge
Aghnagar Bridge
An Caladh
An Coireán
Ardcost
Baile an Mhuilinn
Baile an Sceilg
Baliynakilly
Ballinskelligs
Ballynahow
Ballynakilly Upper
Ballynasare
Banage South
Behy Bridge
Boolakeel
Bucslikane Bridge
Caherboshina
Caherbullig
Caherdaniel
Cahersiveen
Cahersween
Castlequin
Casttercose
Cathair Dónall
Cathair Saidhbhín
Ceann Trá
Clynacartan
Coad
Coars
Cools
Coombaha
Coomnacarrig Bridge
Coomnahincha
Creeveen
Cuherdaniel
Darby's Bridge
Derreenmoria
Dingle
Doonmanagh
Doonsheane
Dromalonhurt Bridge
Dromaragh
Dromkeare Bridge
Ducalla
Dungeagan
Emlagh East
Foilmore Bridge
Glanbeg
Glanbeny Bridge
Glanfahan
Glanleam
Gleann Beithe
Glenbeigh
Gortatlea
Gortdromagh
Kealduff
Kildurrih
Kilkeehagh
Killbarly
Killeenleagh Bridge
Killelan
Kilpeaean Cross Roads
Kilvickadownig
Knights Town
Knockaneden Cross
Knocknahoran
Knockroe
Lamanagh
Lateeve
Lettergarriv
Lios Póil
Lisdargan
Lispole
Lissatinnig Bridge
Mastergeehy
Maulin
Milltown
Minard
Moneyduff
Neesha
New Chapel Cross
Oughtiv
Owroe Bridge
Portmagee
Reenard
Reenard Cross
Reenroe
Reenrone
Roads
Ross Behy
Teeranearagh
Teeromoyle
Tobernamoodane
Toor
Tooreens
Tooreenyduneen
Ventry
Waterville
West Cove
Overview for Buds and Blooms
All reviews for Buds and Blooms
Customer awarded 5 stars.

As always, a great service from Buds and Blooms.

Got the flowers for my Aunt, they were delivered on time and the bunch were beautiful, great value!