---
Blooms
Francis St, Dundalk, Co. Louth, Ireland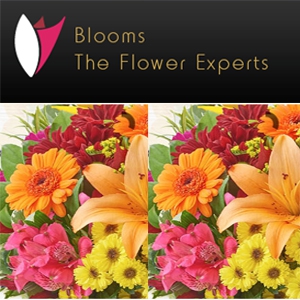 Address:
Francis St,
Dundalk ,
Co. Louth
About Blooms:
We offer same-day flower delivery on all arrangements. We deliver floral arrangements for any occasion throughout Dundalk, Co. Louth area. Blooms in Dundalk are experienced florists.
Opening Times:
Mon

9am - 5pm

Tue

9am - 5pm

Wed

9am - 5pm

Thu

9am - 5pm

Fri

9am - 5pm

Sat

9am - 2pm

Sun

Closed
We deliver flowers to:
Aghlattacru
Aghnaskeagh
An Grianfort
Anaglog Cross
Anaglog Cross Roads
Annagassan
Annaghvacky
Annalittin
Ardaghy
Ardtully
Baile an Ghearlánaigh
Baile Átha Fhirdhia
Ballagan
Ballakelly Cross Roads
Ballinteskin
Ballybinaby
Ballymackney
Ballymakellelt
Ballymascanlan
Ballyonen
Ballyrush
Blackrock
Boharboy
Bridgeacrin
Broomfield
Bush, The
Cairlinn
Cargaghlisnanarney
Carlingford
Carnbeg
Carraig Mhachaire Rois
Castle Roche Cross Roads
Castlebellingham
Chanonrock
Cloughmore
Coolamoney
Corcreaghy
Corcreeghagh
Cornamucklagh
Culloville
Currathir Bridge
Donaghmoyne
Dowdallshill
Dromin
Dromiskin
Drumacrib
Drumakill
Drumbilla
Drumcar
Drumcattan
Drumgowna
Drumin
Drumnagrella
Dún Dealgan
Dún Léire
Dungooly Cross Roads
Dunleer
Edentober
Essexford
Feegavla
Gibstown
Grange Cross
Grangebellew
Greenore
Hackballs Cross
Inis Caoin
Inishkeen
Iniskeen
Inniskeen
Jenkinstown Cross
Kerney Cross Roads
Kerneys Cross
Kilcurly
Kilcurry
Killenny
Killincoole
Killycroney Bridge
Kilsaran
Kiltybegs
Knockbridge
Knocknamona
Lisgall
Little Ash
Littlemill
Louth
Lú
Lubhaidh
Lurganearly
Lurgangreen
Maghereagh Cross
Magheross
Magoney Bridge
Mansfieldstown
Marsh South
Mill Town
Mooretown
Moyles
Mullabohy Cross Roads
Mullacrew
Ó Méith
Omeath
Rahans
Rampark
Rampart
Rathcor
Rathcor Lower
Rathcor Upper
Rathescar Cross
Rathescar Cross Roads
Rathneety
Ravensdale
Reaghstown
Rogans Cross Roads
Rossenmore
Rourkes Town
Saint John's Bridge
Salterstown
Sandymount
Shanlis
Shanlis Cross Roads
Slieve
Spellickanee
Stabannan
Stahannan
Tallanstown
Tattyboy
The Bush
The Cross Guns
The White Cross
Thornford
Tullaghomeath
Tullanacrunat
Tullycahan
Tullychattina
Tullygowan
Tullyvaragh Lower
Two Mile River Bridge
Whites Town
All reviews for Blooms
Lovely flowers. Delived on time and in good condition.