---
Milands Garden Centre & Florist
Tuam Rd, Mountbellew, Co. Galway, Ireland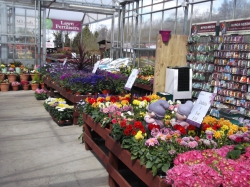 Address:
Tuam Rd,
Mountbellew ,
Co. Galway
About Milands Garden Centre & Florist:
Milands Garden Centre and Florist is in Mountbellew Co. Galway. It is a haven for any flower or garden enthusiast. Every thing you need indoor or outdoor is in Milands. They carry a massive range of fresh flowers, receiving fresh flower deliveries everyday. There is a huge range of indoor house plants and planters. Top quality is the important word at Milands and there Garden Centre is fantastic
Opening Times:
Mon

9am - 5pm

Tue

9am - 5pm

Wed

9am - 5pm

Thu

9am - 5pm

Fri

9am - 5pm

Sat

9am - 2pm

Sun

Closed
We deliver flowers to:
Ahascragh
Alloon Lower
An Creagán
Áth Eascrach
Áth Liag
Áth Tíomáin
Athleague
Attiregan
Attymon
Aughrim
Ballinamore Bridge
Ballyboggan
Ballygar
Ballyhall
Ballyhard
Ballymacward
Ballynahaftina
Ballynahattina
Ballyvoneen
Barnaderg
Béal Átha Ghártha
Benmore
Caherphuca
Caltra
Caltraghlea
Cappalusk
Cappataggle
Carra
Carrowmanagh
Castleblakeney
Castleblakeny
Castlecoote
Castlemoyle
Cill Chonaill
Cill Tulach
Clonbern
Cloonakilleg
Cloonatleva
Cloongawn
Cloonsheecahill
Cloonymorris
Colmanstown
Corrafaireen
Corskeagh
Creeharmore
Creggs
Crosswell
Curragh West
Derrymullan
Dún Mór
Dundoogan
Dunmore
Eachroim
Fuerty
Gallach
Gleann na Madadh
Glenamaddy
Glennamaddy
Glennaveel
Glentane
Gortakecran
Gortfadda
Gortnahoon
Horseleap
Horseleap Cross Roads
Kilconnell
Killaun
Killeronan
Killeroran
Killoscobe
Kilnalag
Kilnalog
Kiltullagh
Kinreask
Knockatogher
Laragh Beg
Lettera
Liscune
Lisheen
Lisnascreena
Loughaclerybeg
Mionlach
Monivea
Mount Bellew
Mount Bellew Bridge
Mount Talbot
Moylough
Muine Mheá
Newtown Bellew
Peak
Peake
Pollatlugga
Pollnabrone
River Village
Rookwood
Rosdaul
Ryehill
Scregg East
Scregg West
Shanballard
Shannaghmore
Skehanagh
Slieveanulty
Stonetown
Tiaquin
Toomard
Tullanwicky
Williamstown
Where to find us:
More About Milands Garden Centre & Florist & History
Milands Garden Centre & Florist are open 7 days a week
Mon - Sat 9 - 6pm and Sundays 2-6pm
Location & Delivery
We are located on the tuam road coming out of Mountbellew. We are on the N63. We are after the garage on the left . You cant miss us. It makes cents to stop at Milands....
Overview for Milands Garden Centre & Florist
We have
2

reviews for Milands Garden Centre & Florist
All reviews for Milands Garden Centre & Florist
A beautiful bouquet of flowers was received and the recipient was delighted. Would highly recommend this florist. Many thanks!

Easy and efficient service, very happy :)