---
Lily Bloom Florist
Custom House Quay, Wexford, Ireland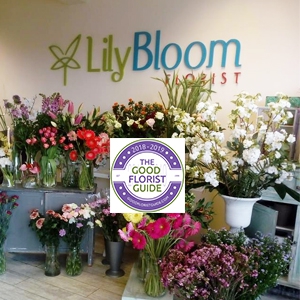 Address:
Custom House Quay,
Wexford
About Lily Bloom Florist:
Lily Bloom Florist in Wexford are experienced florists. We offer same-day flower delivery on all arrangements. We deliver floral arrangements for any occasion throughout Wexford area.
Opening Times:
Mon

9am - 5pm

Tue

9am - 5pm

Wed

9am - 5pm

Thu

9am - 5pm

Fri

9am - 5pm

Sat

9am - 2pm

Sun

Closed
We deliver flowers to:
Adamstown
An Abhainn Dubh
An tAbhallort
Aspealy Bridge
Aughnagroagh Bridge
Baile an Droichid
Ballaghkeen
Ballintlea
Ballybaun
Ballyeden Bridge
Ballyell
Ballygarvey
Ballygerry
Ballygillistown
Ballyhitt
Ballykilliane
Ballyla
Ballylucas
Ballymartin Cross Roads
Ballymurn
Ballynapierce Bridge
Ballyrannel
Ballyroe
Ballytarsna Cross Roads
Ballyvaldon
Ballyvallooo
Barinoney Cross Roads
Barracks Cross Roads
Barracks Village
Barronstown
Blackwater
Boley's Cross Roads
Borsiloge Cross Roads
Bree
Bridgetown
Broadway
Brownscastle Bridge
Brownswood
Burrow
Bushville
Camaross
Castlebridge
Cé na Cille Móire
Chapel
Cleristown
Clonard Little
Cohunon
Cooladine Cross Roads
Coolrainey
Coolstuff Cross Roads
Cooneys Cross Roads
Crossabeg
Crossfarnogue
Crosslaghroe Cross Roads
Davidstown
Doyle's Cross Roads
Droichead an Chaisleáin
Duncormick
Eakin's Cross Roads
Ferrycarrig
Gabys
Gabys Cross Roads
Garry Bridge
Glenbough
Glenbrien
Glenbryan
Goff's Bridge
Granias Cross Roads
Greenfield Cross Roads
Growtown
Hawkshaws Bridge
Hermitage
Hilltown
Holmestown
Howlan's Cross Roads
Inis Córthaidh
Inish
Kate's Cross Roads
Kerloge
Kilcolly
Kilcotty
Killinick
Killurin
Kilmanman Cross Roads
Kilmore
Kilmore Quay
Kilpierce
Kilrane
Knocktown Cross Roads
Lambstown
Larkins Cross Roads
Loch Garman
Lough
Maolán na nGabhar
Mayglass
Mervyn
Millroad
Muchwood Cross Roads
Mulmontry Bridge
Murntown
Mye Cross Roads
Nethertown
Newcastle Cross Roads
Oilgate
Orristown Cross Roads
Oulart
Piercetown
Quitchery Cross Roads
Rathangan Cross Roads
Redgate
Ring
Ros Láir
Rosslare
Saint Helens
Screen
Scurloge Cross Roads
Skreen
Spring Bridge
Star Bridge
Stoneenrath Cross Roads
Taberlomina Cross Roads
Taghmon
Tagoat
Teach Munna
Tenacre Cross Roads
The Deeps
The Leap
Tomcool Cross Roads
Tomhaggard
Tullycanna
Turkyle
Turner's Cross Roads
Twelveacre Cross Roads
Walsheslough
Walshestown
Wattle Cross Roads
Wellingtonbridge
White Cross Roads
Wilkinstown Cross Roads
Overview for Lily Bloom Florist
All reviews for Lily Bloom Florist
Amazing service. Thank you.